In 48-hours, our team of designers, copywriters, and strategists rebranded Buzzoms for Brandathon 33. Buzzoms is a black-owned, female led company that specializes in designing and creating clothing for women with large breasts. This was also the winning rebrand determined by judges and mentors! 
1. Brand story needs to be fleshed out.
2. Assets need to be raised to taste level of clothing.
3. Website needs to be more cohesive experience for shopping.
• Create brand consistency
• Create a new landing page and overall experience for desktop
• Design branding assets and marketing materials
• Solidify brand voice/tone
• Create a mission statement
• Create product feature descriptions
• Create product descriptions
• We established a shift target market.
• The target was originally women 20-34 year old wearing a D-cup.
• We discovered that the target market is now based on lifestyle
We determined the market consisted of women whose bodies were consistently curvy and those that are always changing. We generated the characteristics for each and found those that overlapped.
​​​​​​​
• The average breast size has not risen due to boy changes, rather sizes were excluded from consumer samplings
• Women who have difficulty finding clothes that fit their body type, build a community of support​​​​​​​
"Full-chested ladies, listen up. We know that full cup sizes are not restricted to one body type, and we've been overlooked when it comes to braless options. It's time for a revolution.
Gone are the days of uncomfortable bras. Of squeezing into sizes that were not made for our figures. Our unique BFF sizing guide takes into account your bust, waist, and hips to give you the most flattering fit. At Buzzoms we believe that women of all shapes and sizes should be able to go braless. We're not just here to support your girls, but to support you. So take a deep breath and let them breathe too."
"Buzzoms is more than dresses and tops for curvy women, we're the start of a revolution for braless full-chested women."
"Ditch the bra. Come hang with us."
​​​​​​​
Original: Tone/Voice
While copy on the site feels inconsistent, tone/voice on their instagram feels authentic. The voice as already there.
​​​​​​​
As close to family a non-biological relative can be. 
She is your rock, support. She finds you a deal, she looks out for you. Checks your teeth for spinach. Openly speaks against injustice. Your success is her success. Doesn't let you fret. Provides a solution. Remains chic.
• The customer should feel like Buzzoms is a friend who provides solutions.
• When creating copy, imagine your friend asks what she should wear tonight. 
• You give her your honest opinion about clothes that you think would look great on her.
Original sizing: "B-size"
Buzzoms has t
aken measurements from over one hundred women to inform our sizing metrics. Our sizing index provides for a slight amount of increased room in the busts to ensure clothes fit the way they are supposed to when you have a heavier chest, while keeping the standard waist and hip measurements in tact. 
The result is a well-fit, supportive garment that's made to fit you.
​​​​​​​​​​​​​​
New Sizing System: "BFF Size"
BFF Size (Buzzoms Flawless Fit)
A numerical sizing guide for a more inclusive feel.
Headline:

 "Awkward fits are for dates, not for clothes."
Copy:
"Awkward fits? Not on our watch. With extensive research on bust, waist, and hip measurements of over 100 women of various shapes and sizes, we were able to craft a unique size guide that matches your bust and body to the best proportions. We got you Sis."
Original: Boob Pocket description (on homepage)

​​​​​​​
"We're in a new age where bras should be a thing of the past for everyone. Our proprietary boob pocket is an inner lining that supports your boobs without a bra. Our designs include other elements like strategically placed breast darts that allow for women of all body types to go braless if they want to!
We are the only company focused on designing braless clothing that fits and supports ladies with full busts."
New: Boob Pocket description
Headline:

"

Finally, a functional pocket for women."
Copy:

"Think finding pockets in a dress is amazing? Wait till you see the pockets we got. Our proprietary boob pocket is a comfortable inner lining with a thick elastic band to support your boobs without a bra. It's made of breathable, recycled nylon and elastane  for comfort. You don't have to worry about sweat, underwires, or additional padding (phew). With our other unique design, like folds sewn into the fabric to secure your boobs and provide shape to the garment, we're doing everything to allow for women of all body types to go braless! We love to see it."
When you have a meeting with the boss at 4:30,  but cocktails with the girls at 5, The Class blouse has got your back...and front. The Class drapes easily around the boobs, without gaping at the middle of the chest due to our unique BFF sizing.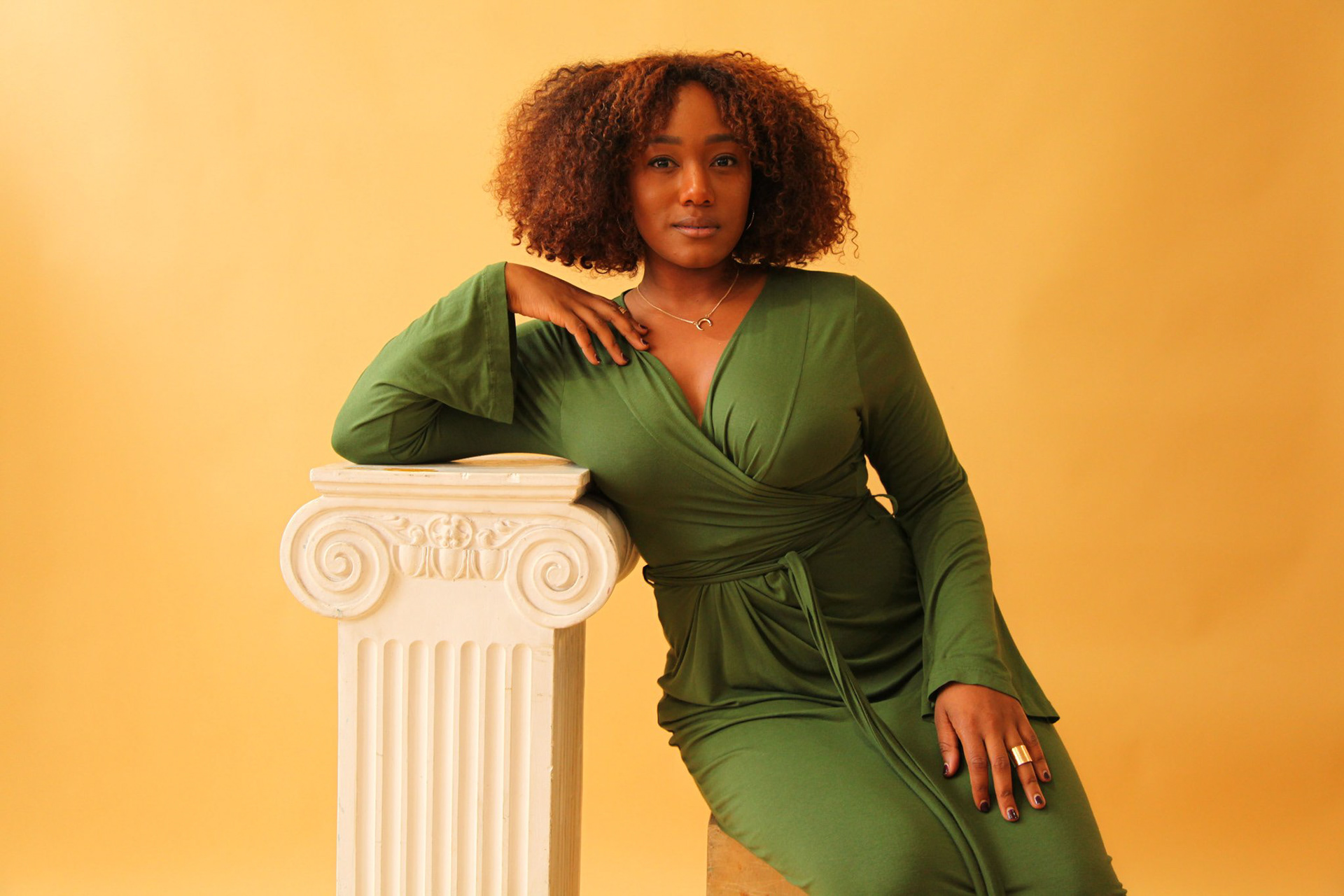 Baggy dress? We don't know her. The Waist Wrap dress perfectly cinches your waist and highlights your silhouette. Don't hide under the sheets anymore, show off that body-ody-ody.
• Wrap with adjustment at the waist
• Model is not wearing a bra!
Had a little too much fun last night and running late for brunch? We got you. The Body dress will get you out the door faster than you can say mimosa.
• Buttons down the middle
We bring a whole new meaning to retail therapy. Our original Lift Tank is the mother of our braless revolution. Let her lift you up and be the support you never knew you had.
• 78% recycled Italian nylon
Currently, only the primary color and muted blue is shown on the site. By reducing the colors and adding a pink, white, and black, Buzzoms' branding is more recognizable, dynamic, and distinct.
Typography (Header) - Bigilla
Changing the header to a dynamic font with character will present a ambitious and confident brand.​​​​​​​
Typography (Paragraph) - Poppins
The font for general paragraph text is Poppins. This font is simple and pairs well with the header options.​​​​​​​
Product Photography Moodboard
After conducting the design audit of the current site, we determined 3 areas of improvement:
1. Clicking on color option buttons, doesn't change the product color image. A clickable checkout button can't be viewed when sliding into the shopping cart details.
2. The sign-up section acts as the only placeholder landing section. 
3. Users can't check the price of a product without getting into the product details page.
1. Create color viewing options and clickable checkout button.
2. Create a memorable opening image on the landing page.
3. Give users more product information from the get-go
Giving users more product information from the get-go
Create color viewing options for products
To help Buzzoms marketing efforts, we designed advertisements for magazines and a train station. We really liked how fashion magazines use up the entire page but we wanted to keep it simple and straight to the point. 
​​​​​​​
The first phase of the social media marketing will be spreading hashtags only unique to Buzzoms all over their platforms.
#mybuzzoms  #boobpocket  #boobpockets #BFFsizing
#BFFsize #bralessbuzzoms #bralessrevolution
#letthegirlsbreathe #BuzzomsFit #BuzzomBeauties #BeautifulBuzzoms
Campaign Giveaways, sample post
1. Monthly tank giveaways - Photo Contest (tag yourself, show us why you love Buzzoms)
2. BFF Giveaway - Post a picture of you and your BFF, tag each other and tag Buzzoms, (if one wins, you both win)
3. 10 k Support Giveaway - Four posts; four outfits. Tag a friend who would look good in this style. We will then raffle and they will win it.
• Send clothes to Instagram influencers with a large following that fit the Buzzoms target audience. 
• Try to have a variety of body shapes, ethnicity, and age. 
• Pay them to create a post wearing your clothing, tag you, and give them a 10% discount code that their followers can use for a limited time.
• Post polls, quizzes, and Q&A buttons on your story. 
• They are able to give you quick feedback. 
• You are able to see the archived stories after they expire.
• Launch a joint social media giveaway with a local yoga studio. Have entries follow both accounts and tag friends.
• You will pull from their following.
• This can be replicated with other collaborations like boutiques and other local shops.
We created a Spotify playlist for Buzzoms with songs that align their their tone, voice, and mission.
​​​​​​​
Overall, this was a great experience for me. Each team member had to wear many hats and work at an incredible pace to complete the rebrand in 48-hours. I am happy that all of the different concepts that were made during this weekend will help Buzzoms rebrand and make an impact to the clothing/fashion industy!